SpaceX launch halted with minutes to go
The Falcon 9 rocket engine faced ignition issues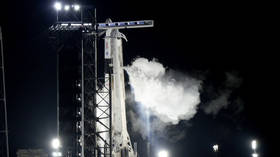 A joint SpaceX and NASA mission to send a crew to the International Space Station (ISS) was stopped before launch due to problems with the ignition system. The Falcon 9 rocket was minutes away from blast-off.
The Crew-6 mission was due to set out for the ISS on Monday but the launch was called off even as all of the space explorers were already in the Dragon spaceship on the Falcon 9 rocket. The space agency cited problems with the first-stage Merlin engine ignition. The decision to call off and postpone the mission was made "out of an abundance of caution," SpaceX systems engineer Kate Tice said during the webcast of the launch event. The eponymous Crew-6 includes NASA astronauts Stephen Bowen and Warren "Woody" Hoburg, UAE astronaut Sultan Alneyadi, and Roscosmos cosmonaut Andrey Fedyaev.
NASA Administrator Bill Nelson wrote on the space agency's official blog that he is proud of the staff's "focus and dedication to keeping Crew-6 safe." He added: "Human spaceflight is an inherently risky endeavor and, as always, we will fly when we are ready." Launching on the next day was considered, but ultimately turned down due to poor weather. The new mission date has been set for March 2.
US governmental space agency NASA has been cooperating since 2020 with billionaire entrepreneur Elon Musk's private company SpaceX. The company's Falcon 9 rockets experienced a few well-publicized accidents during test launches in 2012 and 2016.
Space exploration remains one of the few sectors where the US and Russia still cooperate, as evidenced by the cosmonaut in the SpaceX crew. Despite tensions between Washington and Moscow, NASA and Roscosmos still enjoy a partnership when it comes to the maintenance of the ISS.
On Sunday, the Russian Soyuz MS-23 spaceship docked to the orbiting station to secure a way back for cosmonauts Sergey Prokopyev and Dmitry Petelin, as well as US astronaut Francisco Rubio later in September.
You can share this story on social media: