China reveals plans to counter Musk's 'Starlink'
Beijing has expressed national-security concerns related to the SpaceX network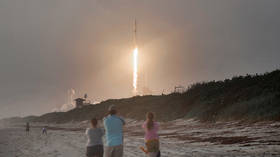 Chinese researchers are preparing to launch close to 13,000 satellites into a low-earth orbit, in a move which would dwarf – and potentially monitor – Elon Musk's SpaceX 'Starlink' network, which first launched in 2019 and provides satellite internet access to 50 countries.
The project, which is codenamed 'GW' and is being led by associate professor Xu Can of the People's Liberation Army's (PLA) Space Engineering University in Beijing, will see 12,992 satellites operated by the China Satellite Network Group Co launched into orbit, and is designed to improve communications efficiency.
The launch schedule remains unknown but the team led by Xu said that they plan to deploy them "before the completion of Starlink." They added that this would "ensure that our country has a place in low orbit and prevent the Starlink constellation from excessively pre-empting low-orbit resources."
The projected number of 'GW' satellites would surpass Starlink's current total of around 3,500. SpaceX plans to have 12,000 devices in its constellation of satellites by 2027, with that figure eventually rising to 42,000.
Xu's team elaborated that they would place their satellites into "orbits where the Starlink constellation has not yet reached" and that they would "gain opportunities and advantages at other orbital altitudes, and even suppress Starlink."
The 'GW' network could also be equipped with technology to provide "long-term surveillance of Starlink satellites," the team of researchers added.
Xu and his team also suggested that the Chinese government could form an anti-Starlink coalition with various other governments which would "demand that SpaceX publish the precise orbiting data of Starlink satellites."
Chinese military figures have previously expressed concern at the national security implications posed by SpaceX's satellites, and called for the development of "hard kill" technology "to destroy the constellation's operating system" should it be necessary.
China's efforts to counter Starlink come amid growing concerns about the potential military applications of the global satellite network. The technology has been used to bolster communications by Ukrainian military forces throughout its conflict with Russia – though SpaceX took steps earlier this month to restrict its use in controlling military drones in the country.
You can share this story on social media: