Ex-White House doctor warns of Biden danger
The US president's "cognitive decline" could get people killed, Ronny Jackson claims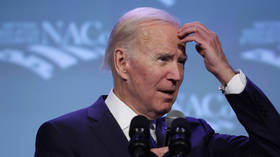 Former White House physician and Republican Representative Ronny Jackson has hit out against US President Joe Biden, arguing that his declining mental state poses a danger to the entire country.
"It's TERRIFYING for our country that Biden is our commander-in-chief," Jackson wrote on Twitter on Saturday. "He doesn't know where he's at half the time and every day he brings us closer to an all-out war with Russia and China. His cognitive decline is going to get people KILLED!!"
Jackson, who served as the White House Physician to the President under Barack Obama and Donald Trump until 2018, has previously criticized the current US administration for failing to disclose the truth about Joe Biden's mental health.
Earlier this month, the White House issued a summary on the status of Biden's health based on a medical history review and a "detailed physical examination," which found that the president was a "healthy, vigorous, 80-year-old male" who was fit to execute his duties.
Replying to the president's health report, Jackson stated that the medical exam was a "joke" and a "cover up." He also pointed out that Biden, unlike his predecessor, Donald Trump, had not taken a cognitive test and argued that the sitting president's "ability to think and reason is gone" and that he should not be in office.
According to a recent Harvard CAPS-Harris Poll conducted earlier this month, some 57% of Americans have doubts about Biden's mental fitness, with 67% thinking he seems to be too old to lead the country.
Speculations about the president's cognitive abilities have only continued to grow due to his numerous recurring gaffes, the latest of which was him proclaiming that "more than half the women in my administration are women."
You can share this story on social media: