Sky News host reduced to fit of laughter by Biden video
The Australian presenter cracked up on air during a discussion of the US leader's health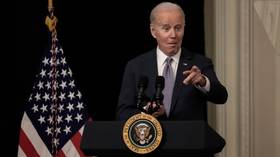 Sky News Australia host Rita Panahi burst into laughter live on air after viewing a montage of US President Joe Biden's most memorable blunders.
The incident came during a program on Monday that discussed Biden's recent medical examination, which found the 80-year-old leader to be "vigorous," "healthy," and "fit for duty."
The group of Australian journalists questioned last week's diagnosis by the White House physician, and showed a compilation of the US president's slip-ups to demonstrate their point.
Panahi could not contain herself after watching a clip of Biden telling a story from when he was a young man and worked as a lifeguard at a swimming pool.
"I sit on the stand, and it's getting hot, I've got hairy legs that turn… that turn, um, blonde in the sun. And the kids used to come up and reach in the pool and rub my leg down so it was straight and watch the hair come back up again. They'd look at it. So, I learned about roaches, I learned about kids jumping on my lap, and I've loved kids jumping on my lap," Biden said in the video.
After the footage ended, the host burst into laughter and appeared to have tears in her eyes.
"I'm sorry. Yes, no man has ever been better equipped to lead the US and, indeed, the free world than the current commander-in-chief. We're in good hands, folks," Panahi said sarcastically.
According to the TV host, Biden's story could only come from "a sane man in peak physical and mental condition."
She later re-posted a video of the segment on Twitter, saying "sometimes you laugh so hard you cry… but normally not on air."
The comments that amused the journalist so much were recorded in 2017 in Wilmington, Delaware, during a ceremony dedicated to the renaming of the pool where Biden had worked. The facility is now known as the 'Joseph R. Biden Jr. Aquatic Center'.
The video with the current US president's remarks on his "hairy legs" did not go viral until 2019, with Panahi among those to share it on social media at the time.
You can share this story on social media: