US heading for 'national divorce' – congresswoman
Marjorie Taylor Greene says "real Americans" feel disconnected from Washington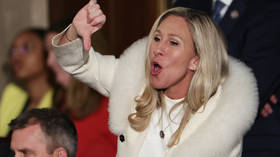 Republican firebrand Marjorie Taylor Greene has doubled down on her recent statement that she believes red and blue states in the US are hurtling towards a "national divorce," but says she doesn't want disagreements in the political ecosystem to incite another civil war.
Georgia Representative Taylor Greene, a key ally of Donald Trump in his 'America First' and 'MAGA' movements, proposed a separation of states by their political ideologies on February 20, which marked President's Day. She complained that "from the sick and disgusting woke culture issues shoved down our throats to the Democrat's (sic) traitorous America Last policies, we are done."
Following backlash, Taylor Greene doubled down on the comments on Sunday, tweeting that Washington and the political world "are totally disconnected from real Americans and how they think [and] feel and they hate it when I'm right."
"Whether anyone likes it or not we are headed for a national divorce, but I don't want a civil war, and it should never come to that."
Taylor Greene's latest comments are bound to inflame tensions amid stark political divides in Washington, which is still feeling the ripple effects of the pro-Trump riot at the US Capitol on January 6, 2021.
The political chasm between red and blue states noted by the congresswoman appears to be backed up by polling data. Pollster Jeremy Zogby told conservative outlet the Washington Examiner that support for a separation of blue and red states exists "across the board."
His father John Zogby, a senior partner at the political consulting firm John Zogby Strategies, also noted that there is "nothing in our polling that would contradict" Taylor Greene's assessment of the US political landscape.
If a so-called "national divorce" came to be, Taylor Greene said the Department of Defense would need to "defend America's borders" rather than focus on rivalries with Russia and China or show more interest in "serving Ukraine first."
The lawmaker said the right and left in the US had reached "irreconcilable differences" and that rather than a civil war, what is needed is a "legal agreement to separate our ideologies and political disagreements while maintaining our legal union."
Criticism of Taylor Greene's position, though, has come from both sides of the aisle. White House spokesperson Robyn Patterson said her national divorce concept is "sick, divisive and alarming," while former GOP presidential candidate Mitt Romney said Greene's statement was akin to "insanity."
"We're not going to divide the country," Romney said. "It's united we stand and divided we fall."
Taylor Greene has been a consistent critic of the administration of President Joe Biden, making headlines earlier this month when she heckled Biden during his annual State of the Union speech.
You can share this story on social media: