Zelensky 'commanding' US military – congresswoman
The Ukrainian leader is edging Washington towards a "world war," Marjorie Taylor Greene has claimed after Biden's trip to Kiev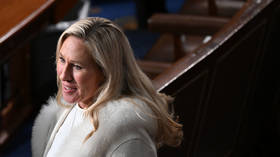 Ukrainian President Vladimir Zelensky is pushing the US military closer to a global conflict, Republican Congresswoman Marjorie Taylor Greene said on Monday. Her statement followed US President Joe Biden's unannounced trip to Kiev the same day.
"Biden didn't go to East Palestine, Ohio on President's Day," Greene, a congresswoman from Georgia, wrote on Twitter, referring to a small US town where a train carrying hazardous materials derailed earlier this month. "He went to Ukraine, a NON-NATO nation, whose leader is an actor and is apparently now commanding our United States military to world war."
The congresswoman argued that Washington's support for Kiev has been "like a US proxy war with Russia" that is "now becoming more like a US-China war through the Ukraine-Russia war." Greene insisted that Biden must be impeached "before it's too late."
A vocal critic of Biden's foreign policy, Greene has been among US politicians calling for an audit of the country's military and economic aid to Ukraine. Congress blocked a motion on the matter in December.
Biden made an unannounced trip to Kiev on Monday, almost a year after Moscow launched its military operation in the neighboring state. He unveiled a new $460 million aid package, which includes ammunition for HIMARS multiple rocket launchers and Javelin shoulder-fired anti-tank weapons. According to the Pentagon, Washington provided Kiev with $30.4 billion in security assistance between February 24, 2022 and February 20, 2023.
Russia has maintained that foreign weapons will not change the course of the conflict. The country's foreign minister, Sergey Lavrov, has said that by helping Ukraine, NATO has been waging "a proxy war" against Moscow. Kremlin spokesman Dmitry Peskov said this month that the US-led alliance's military infrastructure was "working 24/7" to sustain Ukraine.
You can share this story on social media: