Fresh deadly quake in Türkiye
The Turkish emergencies agency AFAD reported a new earthquake in the east, with at least one fatality recorded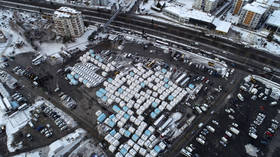 A new deadly earthquake hit Türkiye at around midday on Monday, the national disaster relief agency reported. According to preliminary reports, one person has been killed and 69 others injured in the eastern province of Malatya.
The Turkish disaster and emergency management agency AFAD said the tremor measured 5.6 in magnitude, with the epicenter located in the Yesilyurt district. The quake was estimated to have originated at a depth of approximately seven kilometers and could be felt in neighboring provinces, according to the rescue agency.
Initial reports indicate that over 20 buildings have been flattened in this latest disaster to hit Türkiye. Footage circulating online purports to show the collapse of some of the structures.
Some 20 people, including those rescued from the rubble, were taken to hospital in the aftermath, Minister of National Education Mahmut Ozer told the news agency Anadolu. The search and rescue operation continues, AFAD said.
Malatya was among the Turkish provinces that was seriously affected by the twin quakes on February 6, which claimed over 50,000 lives in Türkiye and Syria and caused massive damage in both nations. Many buildings were weakened by the initial disaster, increasing the risk of their collapse in subsequent tremors.
Hundreds of aftershocks followed the initial strike in the ensuing weeks, some lethal in their own right. Last Monday in the evening, several people were killed and hundreds got injured after the already devastated Hatay province was hit.
Türkiye is located in an area where several fault lines pass, making the country vulnerable to seismic events. After this month's disaster, scientists warned that the risk of a quake similar in strength hitting near the city of Istanbul is increasing with time. The country's most populous city underwent a period of rapid urbanization in the past decades, but the safety of newly constructed buildings remains in doubt.
Turkish President Recep Tayyip Erdogan announced on Monday that the government "will do whatever it takes to prepare all our cities for disasters." It will not permit the construction of high-rise buildings in areas damaged by the quakes and will ban all construction near fault lines, he said.
You can share this story on social media: