Protesters gather outside major American airbase in EU
Demonstrators descended on the Ramstein military installation in Germany, calling for an end to arms deliveries to Ukraine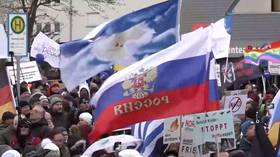 Several hundred people gathered on Sunday outside Ramstein US airbase in southwestern Germany to demand an end to weapons shipments to Ukraine. The military site is where Western officials have regularly held meetings over the past year to coordinate their aid to Kiev.
The demonstrators also called for a cessation of hostilities and peace talks between Ukraine and Russia.
They chanted slogans and beat drums, with an assortment of banners seen during a live stream of the event on YouTube, including the Russian and Soviet flags.
The placards called for the Americans to "go home," and also featured slogans including "Freedom to Julian Assange" and "Stop the weapons deliveries."
☮ Anti-NATO protests continue in Germany near Ramstein air base, West Germany.Demonstrators demand a stop of supply of weapons to Ukraine, in ongoing protests in Germany and other European cities.SubIntelRepublic😒You mostly read about pro Ukraine protest pic.twitter.com/gGLDdmkert

— Two Face (@TwoFace36620002) February 26, 2023
When the rally organizers notified the local authorities several days before the event, they said they expected it to kick off at midday and conclude around 5:30pm, with around 2,000 attending.
Ramstein air base has repeatedly made headlines since Russia launched its military campaign against Ukraine a year ago. It's where the US-led Ukraine Defence Contact Group has held its meetings aimed at shoring up the Ukrainian military. The last such gathering took place on January 20.
On Saturday, tens of thousands of demonstrators turned up in central Berlin for the 'Uprising for Peace' protest organized by prominent Left Party politician Sahra Wagenknecht and author Alice Schwarzer.
They, too, denounced Western arms deliveries to Kiev and called for peace negotiations between the warring sides.
Earlier this month, approximately 10,000 people took to the streets of Munich for a similarly themed rally just outside of the Bayerische Hof Hotel, where world leaders convened for the Munich Security Conference. Further military support for Ukraine was among the topics high on their agenda.
Among the speakers addressing the crowd was former Christian Democratic MP Juergen Todenhoefer, who argued that "we have to serve peace and not the Americans."
Much like the latest event outside Ramstein air base on Sunday, the demonstrators in Munich also called for American troops to leave Germany.
You can share this story on social media: