US presidential hopeful calls for end to Ukraine aid
Washington should focus on countering China and tackling the Taiwan issue instead, Vivek Ramaswamy believes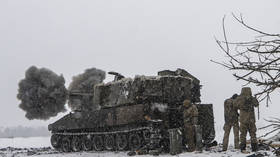 The US is being "played" by Beijing in the ongoing conflict between Russia and Ukraine, with China allegedly seeking to prolong the hostilities for as long as possible, Vivek Ramaswamy believes. The entrepreneur officially announced his candidacy for the 2024 Republican Party presidential primaries earlier this week.
He made the remarks in a series of tweets on Friday, likening the Ukraine conflict to the Vietnam War and urging Washington to "focus" on China instead. Ramaswamy alleged that the ongoing hostilities were being used by China to thin out Washington's military capabilities ahead of a looming conflict over Taiwan.
"The main thing should be the main thing: focus on China. China wants the Ukraine war to last as long as possible to deplete Western military capacity before invading Taiwan. It's working: we think we 'look' stronger by helping Ukraine, but we actually 'become' weaker vs. China," he wrote.
It's like Vietnam, except this time China is like the USSR – and they're playing us even more effectively. We need to wake up to America First 2.0. Things are more complicated now.
The US and China have long been at odds over the Taiwan issue, with Beijing regarding the island nation as an integral part of the country under its One China policy. The island, which has been self-governing since 1949, never officially declared its independence from China.
Washington, which formally adheres to the One China policy, maintains close ties with Taipei, supplying arms to the island and routinely sending warships into the Taiwan Strait. Beijing has repeatedly accused Washington of destabilizing the situation in the region, meddling in China's internal affairs, and fueling secessionist sentiments on the island.
Meanwhile, the US has accused China of stoking tensions around Taiwan itself and denounced large-scale military drills, repeatedly held by the Chinese military near the island.
You can share this story on social media: