Ukraine 'most threatened' by China – Bolton
The former US national security adviser says he expects Beijing to side with Moscow on key issues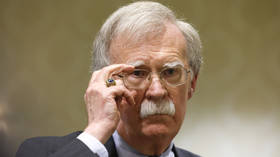 Former top US diplomat John Bolton says he doubts that China can legitimately hold a position of neutrality in the Russia-Ukraine conflict, even as Beijing called for a ceasefire and the resumption of peace talks one year after the launch of Moscow's military operation in Ukraine.
Bolton, who has garnered a reputation for hawkish, interventionist foreign policy stances throughout his political career, has been a prominent critic of China's policies as it relates to an independent Taiwan and the alleged state-sanctioned theft of Western intellectual property. On Friday, he fired another salvo towards Beijing and the nature of its relationship with Russia.
"A lot of so-called experts have said that China was dismayed by Russia's invasion of Ukraine," Bolton told the Washington Post. "I think we've seen in recent days proof positive that's not true."
Bolton added that China had upped its imports of gas and oil from Russian providers to make up for the impact of Western sanctions, and suggested that China's roadmap to peace in Ukraine would likely have been, he said, signed-off by Moscow.
"So, to be clear, I think China's in this with both feet on Russia's side," he said. "And while I certainly don't diminish the threat that China poses to Taiwan and countries in East and South Asia, I would say the most threatened country in the world today from China is Ukraine."
Bolton, who was a key adviser in the Donald Trump administration for a 17-month spell between April 2018 and September 2019, added that he believes "the Russians and the Chinese are in this together," referring to the conflict in Ukraine as a "global war."
"The Chinese have, from the beginning, politically, and I think militarily, had Russia's back," Bolton explained. "And the concomitant other side of that is that if China, for example, were to try to attack Taiwan, or throw a blockade around it, they would expect Russia to have their back."
China's 12-point peace-brokering document, which it issued on Friday, called for an end to hostilities in Ukraine, as well as the removal of Western sanctions on Russia.
However, Beijing's stance has been criticized in the West as being undermined by the country's diplomatic and economic support for Russia. Various Western officials have also warned that China may be considering providing arms to Moscow – an assertion which Beijing denies.
You can share this story on social media: