Fewer Americans think Ukraine is winning – poll
Just 21% of voters consider that Kiev is heading for victory, while 46% see a stalemate with Russia, a new poll has shown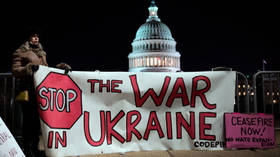 Americans are losing confidence that Ukraine is winning its conflict with Russia, a new Rasmussen Reports poll has shown. The latest figures indicate that more than one-third of US voters who were confident of a Ukrainian victory in December no longer expect Kiev to prevail.
The poll, which was conducted last week and released on Friday, found that 46% of likely US voters believe the Russia-Ukraine conflict has become a stalemate. Those Americans who believe that one side or the other is winning are about evenly divided, with 21% in Ukraine's camp and 19% saying Russia has the upper hand.
Just two months ago, a Rasmussen poll asking the same questions showed that 32% of Americans believed Ukraine was winning the conflict. And just as around one-third of voters who were confident in December that Ukraine would prevail no longer expect a victory for Kiev, the percentage of respondents who see Russian forces winning has increased by about the same proportion.
Rasmussen's findings dovetail with recent polling showing that public support for US aid to Ukraine has dropped sharply. For example, an Associated Press-NORC poll conducted in late January showed that less than half of US adults (48%) still agreed with sending weapons to Kiev. Just 26% said Washington should continue to play a "major role" in the conflict.
Middle-aged voters are most likely to say that President Joe Biden's administration is doing "too much" to help Ukraine, Rasmussen said. Washington has already allocated $113 billion of military and economic aid for Ukraine since Russia began its offensive against Kiev a year ago. During his visit to Kiev earlier this week, Biden vowed "unwavering" support for Ukraine's defense, pledging to continue backing the former Soviet republic "as long as it takes."
The US and its NATO allies also have declared that Ukraine will win, and must win, to preserve the "rules-based international order." However, critics of US foreign policy have argued that Ukraine's battlefield successes have been greatly exaggerated, and US Chairman of the Joint Chiefs of Staff Mark Milley said last week that the conflict will need to end in a negotiated settlement because neither side can likely achieve victory on the battlefield.
You can share this story on social media: