Ukraine has 'total dominance' over US – Trump
The ex-president suggested Kiev might actually be behind the Nord Stream pipeline blasts as well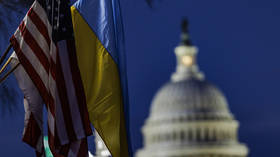 Ukraine has asserted "total dominance" over the US, former President Donald Trump said Friday during an interview with Glenn Beck. The ex-president also suggested that Kiev might be the real culprit behind the destruction of Russia's Nord Stream pipelines last October.
Commenting on the recent report by veteran American journalist Seymour Hersh, who suggested the pipelines were targeted by Washington in a clandestine operation ordered directly by President Joe Biden, Trump did not rule out US involvement but rubbished allegations that Moscow destroyed the installation itself.
"Well, it could have been us, and it could have been Ukraine, and it could have been some third-party country that wants to see trouble. The one group it wasn't is Russia… This is a main source of massive income for them. They didn't blow it up to make a point. That's the one thing I can tell you for sure," Trump stated, adding that "everything gets blamed on Russia" by the "sick" people.
The US might have been "working in conjunction" with Ukraine to target the pipelines, the ex-president suggested, since Kiev has already asserted "total dominance" over Washington.
"We've given them probably $150 billion, and Europe has given them almost nothing," he added.
Earlier this week, Trump, who is seeking to get elected back into the White House in 2024, already vowed to end the Ukraine conflict within hours should he make it to the office again. "I would literally start calling, not from the day I took over, but from the night I won," he told a campaign rally in Florida this week.
The ex-president has also blamed the "warmongers and 'America Last' globalists" entrenched at the State Department, the Pentagon, and the "national security industrial complex" for pushing the hostilities forward. "I was the only president who rejected the catastrophic advice of many of Washington's generals, bureaucrats and so-called diplomats who only knew how to get us into conflicts," he said in a campaign video released Tuesday.
You can share this story on social media: