State Department globalists responsible for Ukraine coup – Trump
The former president vowed to "clean house" and purge Washington of "warmongers"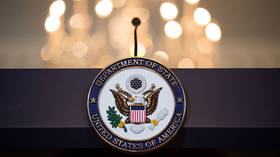 Former US President Donald Trump has blamed "warmongers and 'America Last' globalists" at the State Department for pushing Ukraine toward conflict. Trump, who is running for president in 2024, promised to rid Washington of "warmongers, frauds and failures" if re-elected.
In a campaign video released on Tuesday, Trump warned that "World War III has never been closer than it is right now," and laid the blame on "all the warmongers and 'America Last' globalists in the Deep State, the Pentagon, the State Department and the national security industrial complex."
The former president singled out Victoria Nuland, the US deputy secretary of state for political affairs, who he said was "obsessed with pushing Ukraine towards NATO."
Trump added that Nuland and "others just like her" at the State Department supported the 2014 "uprisings" in Ukraine that saw the democratically-elected president, Viktor Yanukovich, replaced with the pro-Western Pyotr Poroshenko, who then began a campaign of military repression against the people of Donetsk and Lugansk.
Nuland met with rioters in Kiev in 2014, where she promised pro-Western politicians a billion dollar loan guarantee program and military assistance. In an infamous leaked call between Nuland and then-US ambassador to Ukraine, Geoffrey Pyatt, the two discussed which person should replace Yanukovich from a list of opposition politicians.
Trump claimed, as he has on several occasions over the last year, that the conflict in Ukraine would have "never happened if I was your president."
"I was the only president who rejected the catastrophic advice of many of Washington's generals, bureaucrats and so-called diplomats who only know how to get us into conflicts," he continued, adding that "we need to get rid of the corrupt globalist establishment that has botched every major foreign policy decision for decades."
"The State Department, Pentagon, and national security establishment will be a very different place by the end of my administration," Trump said, claiming that "the warmongers, frauds and failures in the senior ranks of our government will all be gone."
Opposition to America's "forever wars" was a core component of Trump's 2016 platform. Although Trump was the first president in decades not to involve the US in a new foreign conflict, he was criticized by his base for briefly hiring noted war-hawk John Bolton as his national security adviser, and for authorizing missile strikes on Syria.
While President Joe Biden has pledged to indefinitely supply Kiev with weapons, Trump says he would call Ukrainian President Vladimir Zelensky and Russian President Vladimir Putin if elected and "have a deal made in 24 hours."
You can share this story on social media: