Trump reveals how he would end Ukraine conflict
The ex-US leader vowed to immediately call Moscow and Kiev, if re-elected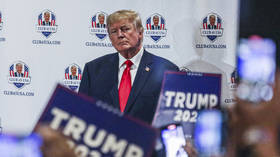 Former US President Donald Trump claims he would end the Ukraine conflict within hours, if he wins the presidential election in 2024, by directly appealing to the presidents of Russia and Ukraine.
Speaking at a rally in Florida on Monday, Trump was asked what he would do to put an end to the hostilities, and replied that he would spring into action even before being sworn into office.
"I would literally start calling, not from the day I took over, but from the night I won. And I'll call two people… [Russian President Vladimir] Putin… and [Ukrainian President Vladimir] Zelensky. And I'll say we're going to meet. I guarantee I could work that out."
"I'll tell one guy this, and I'll tell one guy that… We would have a deal made in 24 hours," he said.
Trump went on to say that "continuing to pour money in" Ukraine is delaying a peaceful settlement and "getting a lot of people killed."
In recent months, Trump has repeatedly called for the US to lead the way in negotiating a peace settlement in Ukraine, while blasting the way President Joe Biden has handled the conflict. In late January, he claimed that his successor "has brought us to the brink of World War III" through "weakness and incompetence."
He also condemned the US' decision to send M1 Abrams tanks to Ukraine, saying the move could bring about a nuclear war.
Trump's comments come as Biden made a surprise visit to Kiev on Monday to personally meet with Zelensky, while promising another $500 million in security assistance to Ukraine, including more artillery ammunition, rockets, and anti-armor systems.
Russia has repeatedly warned the West against supplying Ukraine with weapons, arguing it will only prolong the conflict. Moscow has also said that arms shipments make the West a direct party to the hostilities.
You can share this story on social media: