Trump calls for restraint in arming Ukraine
The US should send less military aid to Kiev and instead focus on a diplomatic solution to the conflict, the former president said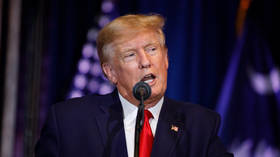 The US should do its best to pave the way for a peace settlement in Ukraine while scaling back the military assistance Washington is sending to Kiev, former President Donald Trump suggested on Thursday.
During an interview with American radio talk show host Hugh Hewitt, Trump was asked whether he believed the US should send F-16 fighter jets to Ukraine to help in its fight with Russia. "I think the United States should negotiate peace between these two countries, and I don't think they should be sending very much," the former president stated.
However, he also complained that the US had committed much more resources to prop up Kiev than the EU has. "The other thing is Europe has to do much more, because Europe is doing probably just a small fraction of what we're doing," he said, explaining that the Ukraine crisis "affects Europe more than it affects our country."
Trump dodged the question when asked whether he wanted to completely cut off aid for Ukraine, stating instead that he wanted "to make it so that Ukraine and Russia have to… fight for the last day."
"This thing has to stop, and it's got to stop now. And it's not going to stop if we continue to just load something up," he cautioned.
The former US leader has on numerous occasions criticized the way the administration of President Joe Biden is handling the Ukraine conflict. Last week, Trump said his successor "has brought us to the brink of World War III" through "weakness and incompetence." He doubled down on his claim that, if he were president, the conflict between Moscow and Kiev would have never started.
On Monday, Biden stated that the US had no plans to send F-16s to Ukraine. The delivery of modern fighter jets is also said to be off the table for the EU, with the bloc's top diplomat Josep Borrell pointing out that this idea had caused a lot of division among member states.
As of January 25, the US has committed more than $27 billion in security assistance to Ukraine, including heavy artillery and tanks, air defense systems and infantry fighting vehicles. Moscow has repeatedly warned the West against arms shipments to Ukraine, arguing that they will only prolong the conflict while making NATO a direct participant to the hostilities.
You can share this story on social media: