Poll reveals Republicans' preferences for 2024 race
Most GOP voters in California want to see Florida Governor Ron DeSantis as the party's presidential candidate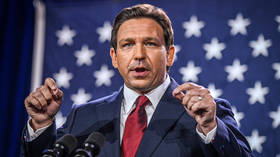 The majority of Republicans in the state of California favor Florida Governor Ron DeSantis as the party's candidate in the 2024 presidential race, with former President Donald Trump coming a poor second.
As some media outlets have pointed out, GOP voters from the Golden State could play a key role in determining who runs for president during the Republican presidential primary in a year's time.
The survey was conducted online by the Berkeley Institute of Governmental Studies (IGS) between February 14 and 20, and sounded out 1,755 registered Republicans in California.
Around 37% of the respondents said they would back DeSantis, with Trump receiving 29%. The other Republican candidates, including former US Envoy to the UN Nikki Haley and former Vice President Mike Pence could count on the support of no more than 7% of California's GOP voters, the survey indicated.
Among Republican voters in the state with a college degree, DeSantis enjoys the support ratio of more than two-to-one over Trump. In the subgroup made up of those who voted for Trump in 2020, DeSantis also leads, by 11 points.
"There is serious defection among his ranks," Mark DiCamillo, director of the IGS Poll, noted, adding that "these voters are now on board with DeSantis more than Trump."
The Florida governor is expected to give a speech in California, at the Reagan Library Presidential Library in Simi Valley, as well as at a fundraiser for the Orange County GOP on March 5.
The Los Angeles Times reported, citing sources familiar with DeSantis' plans, that the politician is going to meet with wealthy Republican donors. According to the paper, the California GOP presidential primary slated for March 2024 may play a key role in deciding who wins the party nomination. The Golden State is expected to have the largest delegation at the 2024 Republican National Convention in Milwaukee, the article claims.
Moreover, California is home to numerous affluent donors, The Times pointed out. The Center for Responsive Politics has estimated that the state's contribution to Trump's campaign in 2020 totaled more than $92 million.
Another poll, carried out by Yahoo/YouGov earlier this month, yielded similar results, suggesting that Trump has only a slim chance of beating DeSantis, with the latter being four percentage points ahead.
Surveys indicate Trump has lost a significant part of his support base following November's congressional midterm elections, which saw candidates endorsed by the former president fare worse than expected.
You can share this story on social media: