Seymour Hersh shares opinion on Edward Snowden
There are still people in the US government who value the Constitution, the veteran journalist says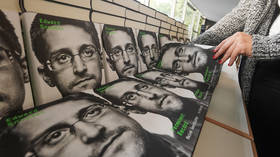 Thousands of people in the US intelligence community knew about illegal surveillance by the NSA, but Edward Snowden was the only one to speak out, renowned investigative journalist Seymour Hersh said in an exclusive interview with Afshin Rattansi's show 'Going Underground' on RT.
Hersh described as "quite interesting" the story of the former National Security Agency (NSA) contractor, who back in 2013 leaked a massive trove of classified documents revealing the agency's extensive spying on the communications of American citizens and other shady practices.
Snowden was "a kid really into computers, not into political science," which is why he "recoiled" when he learned that the law, which banned intercepting the conversations of Americans without a warrant, was changed under the pretext of the War on Terror.
There were 25,000 people employed by the NSA at that time, according to the Pulitzer Prize winner, and many of them knew that "the rules have changed."
"Out of those many thousands, one [Snowden] spoke out about a direct violation of one the most sensitive things in the American Constitution," he said. "There is something about the community that is bizarre."
It took Snowden a lot of "guts" to do what he did and he's now paying a high price, Hersh said, adding: "I don't think it's safe for him to ever come back in the country [the US]."
The former NSA contractor was charged in the US with theft of government property and giving classified data to unauthorized persons, among other things. His American passport was annulled, with Snowden now staying at an undisclosed location in Russia, where he received political asylum.
Hersh argued that the Snowedn affair should serve as a response to those who label him a "conspiracy theorist" over his reporting, including his recent bombshell article blaming the Biden administration for the explosions on the Nord Stream pipelines in the Baltic Sea last year.
The White House has rejected the story as "fiction," but Snowden appeared to be convinced of its authenticity. "Can you think of any examples from history of a secret operation that the White House was responsible for, but strongly denied?" he wrote on Twitter a few weeks ago. "Besides, you know, that little 'mass surveillance' kerfuffle," the NSA whistleblower added, referring to his own revelations.
Hersh told 'Going Underground' that "many in the US intelligence community, many in the military value the Constitution" and they have often been the sources for his reports.
Those people, some of who are high-ranking, "talked to me privately about the stuff they couldn't stand... Those people are the people I know. And I will tell you right now – those are the people I'll protect forever," the journalist insisted.
You can share this story on social media: