US started both Iraq and Ukraine conflicts – former state senator to RT
Richard Black claims Washington overthrew the legitimate governments in these countries to turn them into puppets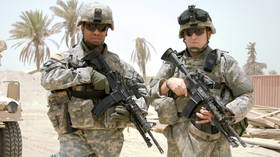 America's involvement in the affairs of foreign countries is to blame for at least two major conflicts in the past 20 years – the Iraq War and Russia's military operation in Ukraine – ex-Virginia state Senator Richard Black has claimed in an interview with RT.

He also argued that while most Americans do not want to be involved in faraway conflicts, the US "foreign policy establishment" has its own agenda.
Speaking to RT on Thursday, Black said the US is the "source of both" the Iraq and Ukraine conflicts, explaining that Washington "overthrew Iraq with military force, coming in from across the globe," and has "gone in and overthrown Ukraine with military force from the other side of the globe."
The former state senator claimed that the Ukraine conflict broke out when the CIA "staged a violent, bloody coup" in Kiev in 2014 and helped remove the legitimately elected president, Viktor Yanukovich, from power. He went on to say that Washington replaced him with a "revolutionary junta" and began pumping "advanced weapons" into Ukraine with the aim of building up a "very formidable" military force.
Black characterized the current Ukrainian president, Vladimir Zelensky, as nothing more than a "puppet" of Washington who "does what he is told, when he is told."
Iraq, which the US invaded in 2003, has been reduced to the status of a "colonial state," he claimed, adding that he believes the "occupation of Iraq will continue indefinitely," and that America's endgame is to wield influence over the entire Middle East from its "hardened command and control center" in Baghdad's 'Green Zone'.
According to the former senator, while most Americans do not support these interventions, elites in Washington, DC, as well as "oligarchs" and arms manufacturers, pursue their own interests.
Black also said the conflict in Ukraine could be resolved if the country becomes "neutral" and "demilitarized," similar to Austria during the Cold War, adding that Russia's security concerns will inevitably have to be addressed.
You can share this story on social media: