Google accused of destroying evidence in antitrust suit
The tech giant faces allegations that it abused its power in the web search business to create a monopoly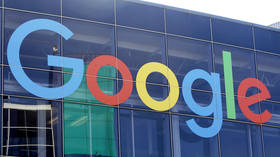 The US Department of Justice has accused Google of "systematically" destroying records linked to ongoing antitrust litigation, saying the company failed to preserve its internal communications despite a previous order to do so.
In a legal filing issued in a Washington, DC federal court on Thursday, DOJ officials said Google has refused to change a feature on its company chat which automatically deletes employees' logs, adding that it "falsely" claimed to have ended the practice back in 2019.
"Google's daily destruction of written records prejudiced the United States by depriving it of a rich source of candid discussions between Google's executives, including likely trial witnesses," DOJ attorney Kenneth Dintzer said.
While the government said Google was required to end the auto-delete function under the Federal Rules of Civil Procedure, the company did not "preserve potentially relevant chats," meaning that for nearly four years since the antitrust case was launched, "Google systematically destroyed an entire category of written communications every 24 hours."
The DOJ has asked the court to rule that the tech giant violated a civil procedure guideline, and requested a hearing to determine how to penalize Google and demand more information about its internal communications.
In a statement issued on Thursday, Google said it "strongly" rejects the allegations, with a spokesperson arguing its teams have "conscientiously worked for years to respond to inquiries and litigation." They added that the company has "produced over 4 million documents in this case alone, and millions more to regulators around the world."
The antitrust case against Google was opened in 2020, when the Justice Department said the company is a "monopoly under traditional antitrust principles" in the search engine industry and "must be stopped." While the government argued the firm has used its market power to disadvantage smaller competitors, Google later slammed the suit as "deeply flawed," insisting it would "do nothing to help consumers."
You can share this story on social media: