Former Trump aide hit with lawsuit
Steve Bannon's lawyers claim he owes them almost $500,000 in legal fees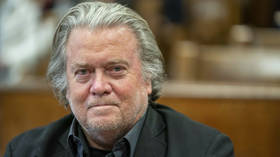 Steve Bannon, a former adviser to Donald Trump, has been sued for more than $480,000 by a New York law firm. Davidoff Hutcher & Citron represented Bannon in a series of contentious courtroom battles, which he insists were politically motivated.
Filed in a New York state court last Friday, the lawsuit seeks the payment of an outstanding balance of $480,487 for legal services provided to Bannon between November 2020 and November 2022. The firm claims that Bannon ran up a bill of more than $855,000, of which he has paid $375,000.
The firm represented Bannon when he was accused in 2020 of defrauding donors who contributed to a fundraising campaign aimed at building a wall along the US-Mexico border. In the lawsuit, Davidoff Hutcher & Citron claim that they helped Bannon secure a pardon from Trump to dismiss these charges before Trump left office in January 2021.
The company also represented Bannon when he was charged with contempt of Congress for refusing to comply with a subpoena from the Democrat-led House committee investigating the pro-Trump riot on Capitol Hill in 2021. Bannon was found guilty of contempt last October and given a four-month prison sentence, which he has appealed.
A US Navy veteran and former investment banker, Bannon co-founded Breitbart News in 2007. He left the conservative news site in 2016 to lead Trump's election campaign, and was appointed chief strategist and senior counselor to the president following Trump's defeat of Hillary Clinton. He left the position eight months later and returned to political punditry.
Bannon described the contempt proceedings as a "show trial," telling reporters outside the courtroom in October that he was being punished for standing "with Trump and the constitution."
Although Trump's pardon resulted in the dismissal of the 2020 fraud case against Bannon, it was taken up again last September by New York Attorney General Letitia James, an outspoken opponent of Trump. Bannon is facing six criminal charges, including fraud, conspiracy, and money laundering.
"This is what happens in the last days of a dying regime," he said after his indictment. "They'll never shut me up. They'll have to kill me first."
You can share this story on social media: