Trump Organization given maximum fine for fraud
The ex-president's real estate company was found guilty on 17 counts last month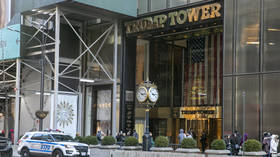 Former President Donald Trump's real estate corporation has been ordered to pay the maximum fine of $1.6 million by a New York judge. Trump's namesake organization was convicted last month on 17 counts, including conspiracy, tax fraud, and falsifying business records.
The penalty was handed down by New York Supreme Court Justice Juan Merchan on Friday. In assigning the maximum fine allowable under the law, Merchan sided with the prosecution, who argued that the Trump Organization engaged in "far-reaching and brazen" fraud.
Two of the Trump Organization's subsidiaries – Trump Corporation and Trump Payroll Corporation – were found guilty last month of helping executives avoid taxes between 2005 and 2021 by offering them "off the books" perks like luxury apartment rentals, private school tuition, and car leases, which were not declared to the tax authorities.
While the companies pleaded not guilty, the Trump Organization's former chief financial officer, Allen Weisselberg, took a plea deal in exchange for his testimony. Weisselberg claims that he dodged city, state, and federal tax on approximately $1.76 million in income, and that the Trump Organization paid his rent and utility bills with company money as "indirect compensation" for his work.
Donald Trump was not charged with any offenses, nor did the former president testify during the trial. Defense attorney Michael van der Veen said in his closing statement that the jury "heard no evidence in this case that Mr. Trump or any of his children were aware of anything improper."
Nevertheless, Trump's lawyers viewed the trial as an attempt to tarnish the name of the Republican candidate, who officially entered the 2024 race for the presidency in November.
"New York has become the crime and murder capital of the world, yet these politically motivated prosecutors will stop at nothing to get President Trump and continue the never ending witch-hunt which began the day he announced his presidency," the Trump Organization said in a statement. "We did nothing wrong and we will appeal this verdict."
You can share this story on social media: