NATO country snubs Ukraine weapons request 
Athens will not transfer the Russian-made S-300 missile systems to Kiev, the Greek defense minister has confirmed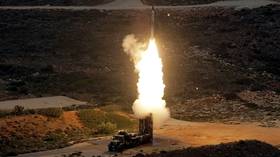 Greece cannot afford to donate its Russian-made S-300 anti-air missile systems to Ukraine, Defense Minister Nikolaos Panagiotopoulos said on Wednesday.
"For a long time, Greece has been asked to contribute the S-300s, but we have said that we can't fulfill this request because … we can't weaken our defense," Panagiotopoulos told broadcaster ERT. The minister added that Greece was "looking at various possibilities" for helping Kiev.
The news comes after US Secretary of State Antony Blinken traveled to Athens on Tuesday, where he thanked the country for its "unwavering support" of Ukraine.
In December, Panagiotopoulos said Greece could potentially transfer the S-300s to Ukraine if Washington replaced them with MIM-104 Patriot missile systems. The minister later revealed that Athens had not received a formal proposal from Washington on the matter.
Russian Foreign Ministry spokeswoman Maria Zakharova warned at the time that Moscow would view the transfer of the S-300s as an "openly hostile act." She said bilateral treaties bar Athens from providing Russian-supplied weapons to anyone without Moscow's approval.
Moscow has maintained that foreign weapons would not change the course of the Ukraine conflict and would be treated as legitimate targets by Russian forces.
You can share this story on social media: