NATO member ends 'secret mission' in Ukraine
98 Polish police officers have returned home after a lengthy mine clearance campaign in the neighboring country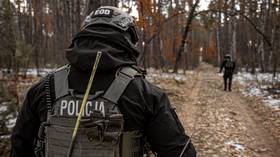 Dozens of Polish law enforcement officers operated in Ukraine for months clearing mines, with the unit now reporting back home, Jacek Siewiera, the head of Poland's National Security Bureau, said on Wednesday.
Siewiera tweeted that "for the last five months, a 98-person humanitarian contingent of Polish police [has been] demining in Ukraine explosive charges laid by Russian troops."
The official claimed that the efforts of the officers, who have already returned to Poland, "have already saved the lives of hundreds of people."
President Andrzej Duda awarded the participants in the "humanitarian mission" the Cross of Merit for Courage, Poland's Interior Ministry said in a statement on Thursday. Photos from the ceremony posted on Facebook showed the officers wearing patches labeled "First Rotation," implying there might be more in the future.
The Wirtualna Polska news portal offered some insight into this "secret mission." The outlet claimed to have known about it "for several months," but had chosen not to report on it until now, to keep the participants safe.
According to WP, the effort started in the summer of 2022, after Ukraine asked for help from the ATLAS group, the EU's special counter-terrorist force. At the time, Kiev wanted the bloc to dispatch explosive ordnance disposal teams to de-mine the areas from which the Russian troops had withdrawn.
Ukraine reportedly lacked specialists for such work while NATO could not deploy its military EOD teams because Russia would consider it a provocation. The only option left was to send police specialists, the outlet said. According to WP, of all the ATLAS members, only Poland answered Ukraine's call, with other countries deeming such a mission too dangerous.
The campaign reportedly began in October and was meant to last three months, but was extended for two more. The "humanitarian" mission only accepted volunteers. In addition to EOD technicians, it included paramedics, a security detail, and two bomb-sniffing dogs.
Much of their work involved clearing the Gostomel airport near Kiev, which Ukrainian troops had mined. Ukrainian engineers who set the mines had "died in the fighting" and left no maps or diagrams, WP noted. All of the members of the mission managed to survive without injuries, however.
Last week, Polish media reported that Ukraine had approved the creation of a Polish volunteer unit, which is supposed to be used for reconnaissance and sabotage missions.
Russia has repeatedly accused the West of trying to inflict a "strategic defeat" on Moscow in Ukraine, claiming that foreign assistance to Kiev will only prolong the conflict. It has also blasted Western arms shipments to Ukraine, warning that the weapons "as well as foreign military personnel operating them are legitimate targets" for the Russian military.
You can share this story on social media: