'Polish Legion' to fight for Ukraine – media
Kiev is setting up another foreign volunteer unit, according to the Onet news portal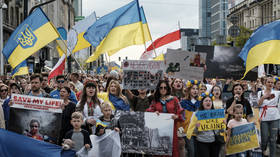 The Ukrainian Defense Ministry has approved the creation of a special forces unit composed entirely of volunteers from Poland, the Polish news outlet Onet claimed on Friday. The decision was reportedly made in Kiev earlier this week.
The unit's organizer, a Polish citizen who has fought in Ukraine since last February, met with representatives of the Defense Ministry on Wednesday, the outlet said. The unit will "probably" be named the Polish Volunteer Legion, and won't be a "typical frontline unit" but an "elite" group charged with reconnaissance, sabotage and other special tasks.
"It is extremely important to me that I was given the opportunity to form the first Polish special unit in Ukraine," the organizer, whose name was withheld for security reasons, told Onet. "Poland is the country that supports Ukraine the most," he added. "I am sure that our unit will be a model for other similar formations."
A German unit is also being raised, according to the outlet. There are already two "legions" of foreign volunteers in Kiev's service, one from Russia and another from Belarus, each consisting of "several dozen" militants.
"It is much easier with Poles than with Belarusians or Russians, who come from enemy countries," the Ukrainian Defense Ministry official, likewise unnamed, told Onet. Handling the necessary paperwork will take a week or two, he added.
The unit's members are planning to set up a recruitment center in Poland, but this has "not yet been agreed with the Polish authorities," Onet reported. While official Warsaw has yet to comment, the Twitter account Visegrad 24 – reportedly run by the Polish government – cheered the news of the Legion.
BREAKING:Poland is the latest nation to form its own legion of volunteers fighting for Ukraine.The legion will consist of a couple of dozen special forces soldiers.The unit will be used for reconnaissance & sabotage missions.A recruitment office will open in Poland.🇵🇱🇺🇦 pic.twitter.com/vcrCrVgdXv

— Visegrád 24 (@visegrad24) February 16, 2023
Warsaw has been one of the most outspoken champions for Kiev, hosting the NATO logistics hub for supplying Ukraine with weapons and ammunition, and taking in refugees. The Polish government has also taken a hard line on sanctions against Russia and led the efforts to supply Ukraine with tanks – giving it hundreds of its own T-72s last year, then bullying Germany into approving the export of Leopards in January.
Poland has also turned a blind eye to its nationals enlisting in the Ukrainian military, where over 1,200 had lost their lives as of late November, according to the outlet Niezalezny Dziennik Polityczny. The outlet, which is critical of the government in Warsaw, claimed that the new "American-style" cemetery at Olsztyn was intended for more efficient burials amid the rising number of casualties.
Onet is Poland's largest internet news portal, and is owned by Ringier Axel Springer, a German consortium with an openly pro-NATO editorial policy.
You can share this story on social media: