Berlusconi responds to Zelensky 'bombing' gaffe – media
The ex-Italian PM reportedly insists he has seen the horrors of war, after Ukraine's president claimed he had never been under an airstrike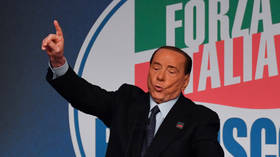 Former Italian Prime Minister Silvio Berlusconi has pushed back against Ukrainian President Vladimir Zelensky, who has suggested that the Italian politician's stance on the Ukraine conflict is based on him never having been under a bombardment, several local media reported on Wednesday.
On Tuesday, speaking at a joint press conference with Italian Prime Minister Giorgia Meloni, Zelensky took a swipe at Berlusconi for claiming earlier this month that Kiev could have avoided conflict with Moscow if it had "stopped attacking" the two Donbass republics, which chose to join Russia this autumn.
The ex-Italian premier also said at the time that if he had been the prime minister, he would never have gone to talk to the Ukrainian president, adding that he views "this gentleman's behavior very, very negatively."
In a sharp rebuke, Zelensky claimed that Berlusconi's "house has never been bombed by missiles daily." He went on to say that Berlusconi "had not woken up at 3am because of a blackout" in order to do some housework in anticipation of a protracted power outage.
While stopping short of an official reply, the ex-Italian PM vented outrage to his followers, according to local media. "What does this gentleman know about me? He knows nothing. I experienced the bombings as a child," Berlusconi reportedly fired back.
According to Berlusconi's supporters, as cited by the outlet Il Giornale d'Italia, he was surprised that the meeting between the Italian and Ukrainian leaders in Kiev, which should have been dedicated to other subjects, was overshadowed by such a verbal attack.
"It's not true that I don't know war, I too was displaced as a kid, I've lived the horrors of war," Berlusconi reportedly said.
The ex-Italian prime minister, who was born in 1936 in fascist Italy, said that he had witnessed first-hand the allied bombing raids on Milan in 1943 during WWII, with one bomb falling on his street, prompting his family to move to the village.
Since the start of the Russian operation in Ukraine almost one year ago, Berlusconi has repeatedly called on Moscow and Kiev to agree to a ceasefire while offering his personal mediation.
You can share this story on social media: