Zelensky jab at Berlusconi goes awry
"His house has never been bombed," the Ukrainian leader said about the ex-Italian PM who witnessed air strikes during WWII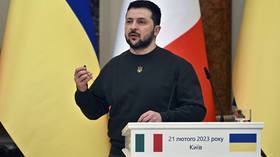 Ukrainian President Vladimir Zelensky has rebuked former Italian Prime Minister Silvio Berlusconi for his stance on the Ukraine conflict, suggesting that he would behave differently if he had ever been under a bombardment. However, as a child Berlusconi witnessed Allied air strikes on Italy during WWII.
Speaking at a joint press conference with Italian Prime Minister Giorgia Meloni in Kiev on Tuesday, Zelensky was asked to comment on Berlusconi's recent remarks claiming that Ukraine could have avoided the conflict with Russia if it had "stopped attacking" Donbass.
The Ukrainian president criticized Berlusconi for his comments, alleging that "his house has never been bombed by missiles daily." The former Italian PM "has not woken up at 3 am because of a blackout to start washing clothes, cook food for his children for two days in advance, because there simply may not be power for the next two to three days due to great fraternal love of the Russian people," Zelensky said.
However, Berlusconi, who was born in 1936 in fascist Italy, several years prior to the start of WWII, said that he had witnessed Allied bombing raids on his native city of Milan in 1943 when he was just six years old.
Russian Foreign Ministry spokeswoman Maria Zakharova offered a scathing rebuke of Zelensky, describing his remarks as "another bout of impotent rage." She went on to state that the Ukrainian leader had "let it slip" by "comparing his regime with the fascist one while paralleling [Russia's] special military operation with the actions of the Allies during the Second World War."
Berlusconi has on numerous occasions called on Moscow and Kiev to agree to a ceasefire. Earlier this month, he suggested that the US should offer a huge aid package to Ukraine for rebuilding the country, but only after the two sides stop hostilities.
During his tenure as Italy's prime minister, Berlusconi forged close ties with Russian President Vladimir Putin. After stepping down from office, he even visited Crimea in 2015 after the peninsula voted in a referendum to join Russia, despite the fact that Western countries refused to recognize the vote.
You can share this story on social media: