Berlusconi floats cash-for-ceasefire deal in Ukraine
Washington should offer a new Marshall Plan to Kiev, but only after the hostilities are brought to an end, the ex-Italian PM said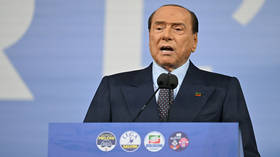 US President Joe Biden should agree to continue sending aid to Ukraine, but only on the condition that Kiev immediately agrees to a ceasefire with Moscow, former Italian Prime Minister Silvio Berlusconi said on Sunday.
Speaking after a regional election in Lombardy, Berlusconi, who leads the Forza Italia party, slammed Ukrainian President Vladimir Zelensky, saying: "If I had been the prime minister, I would never have gone [to talk to him] because we are witnessing the devastation of his country and the slaughter of his soldiers and civilians."
The former Italian leader stated that "it would have been enough for him to stop attacking the two autonomous republics of Donbass and this would not have happened," adding that he views "this gentleman's behavior very, very negatively." Berlusconi was referring to the Donetsk and Lugansk People's Republics, which, along with two other former Ukrainian territories, voted overwhelmingly to join Russia last autumn.
In order to bring the conflict to an end, he continued, Biden should offer Zelensky a new Marshall Plan to the tune of several billion dollars to rebuild the country, but only on condition that Zelensky "orders a ceasefire tomorrow."
"Because starting from tomorrow we will no longer give you dollars and we will no longer give you weapons. Only such a thing could convince this gentleman to reach a ceasefire," he said.
Following the remarks, his coalition ally, current PM Giorgia Meloni, appeared to distance herself from Berlusconi, with her office saying that Rome's support for Kiev remains firm.
The former Italian prime minster, who served four terms from 1994 to 2011, developed close ties with Russian President Vladimir Putin. He even visited Crimea in 2015 after the peninsula voted in a referendum to join Russia, despite the fact that Western countries refused to recognize the results.
Since the beginning of the conflict in Ukraine in February 2022, Berlusconi has urged Moscow and Kiev to agree to a ceasefire, while offering to act as a mediator between the two sides. In November, he claimed that he could "lure" Putin to the negotiating table.
Kremlin Press Secretary Dmitry Peskov said at the time that Moscow welcomes any peace-making efforts, but noted that it would be better to try to "lure" Zelensky.
You can share this story on social media: