University deans use ChatGPT to console students
Vanderbilt University issued an apology after staff used AI to address a recent mass shooting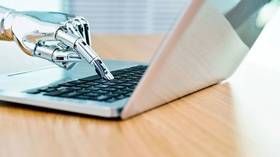 Officials at Vanderbilt University in the US have formally apologized to outraged students after it was revealed that two deans had used AI to craft a consoling email that addressed a recent mass shooting at a fellow university.
Last week, administrators at Vanderbilt University's Peabody College of Education and Human Development sent out a letter to students and staff which stressed the importance of creating "a safe and inclusive environment for all." It also urged college members to "come together as a community" and "promote a culture of respect and understanding."
The email was sent after three people were killed and five others injured in a shooting incident at Michigan State University on February 14.
However, the deans who signed the message, Nicole Joseph and Hasina Mohyuddin, added a small-print sentence at the bottom which stated that it was a "paraphrase from OpenAI's ChatGPT AI language model, personal communication."
The Peabody letter also did not include any mention of campus resources that students could access to help them process their emotions, unlike other emails sent out by university officials.
"There is a sick and twisted irony to making a computer write your message about community and togetherness because you can't be bothered to reflect on it yourself," wrote one senior student to the Vanderbilt Hustler – the university's student paper.
"Automating messages on grief and crisis is the most on-the-nose, explicit recognition that we as students are more customers than a community to the Vanderbilt administration. The fact it's from the office of EDI might be the cherry on top," wrote another student.
Joseph, one of the 'authors' of the letter, has since sent out a follow-up apology email to the Peabody community. She admitted that although she still believes in the "message and inclusivity expressed in the email," the decision to use ChatGPT was "poor judgment." According to the dean, the incident "gives us all an opportunity to reflect on what we know and what we still must learn about AI."
Camilla Benbow, dean of Peabody College, said that she was unaware of the email before it was sent out, and offered her "heartfelt apologies." She noted that both Joseph and Mohyuddin have been suspended from their duties pending an internal investigation.
You can share this story on social media: