Washington to deliver new longer-range weapon to Kiev – Bloomberg
Ukraine will receive gliding bombs from the US, with a range of 80km, the outlet claims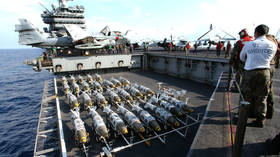 The US will supply Ukraine with precision upgrade kits for air-launched bombs, which give them a range of 80km (50 miles) and GPS guidance capability, Bloomberg reports.
According to two anonymous sources familiar with the matter, Kiev will receive Joint Direct Attack Munition-Extended Range (JDAM-ER) kits, the news agency said on Tuesday. They are the "precision aerial munitions" that the Pentagon mentioned as part of the $1.85 billion weapons package announced on December 21, according to the outlet.
JDAM is an upgrade for regular free-fall bombs, which turns them into gliding GPS-enhanced precision weapons. The ER version was originally developed by Australia's Defence Science and Technology Organisation (DSTO), along with Boeing Australia for the Royal Air Force. The wing kit is meant for 500lb (227kg) munitions.
The upgraded bombs were designed to be launched from US-made fighter jets, such as the F/A-18 A/B Super Hornet, but Washington and its allies have refused so far to provide aircraft such as this to Ukraine.
In late January, Boeing received a $40.5 million order from the US Air Force under an existing JDAM contract, pending completion by June 30, Bloomberg said. The outlet reasoned that the US and Ukraine "have cobbled together a method by which Soviet-era fighter jets flown by Ukraine can program and launch the JDAM-ER."
Kiev has been lobbying its Western backers to provide longer-range missiles and more advanced weapons for its war effort against Russia. A $2.17 billion security package for Ukraine announced by the Pentagon this month includes Boeing's Ground-Launched, Small Diameter Bombs (GLSDBs), which have a range of up to 150km (93 miles).
Moscow has warned that pumping weapons into Ukraine will only prolong the conflict, which it perceives as a US proxy war against Russia. If Kiev receives longer-range weapon systems, Moscow "will be forced to push the threat away from our borders," President Vladimir Putin warned this week.
You can share this story on social media: