EU members in angry clash over Ukraine
Slovakia's foreign minister used foul language to berate the Hungarian prime minister over his stance on the Ukraine conflict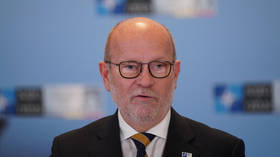 Slovakia's acting foreign minister, Rastislav Kacer, has taken a swipe at Hungarian Prime Minister Viktor Orban, resorting to profanity to describe his reluctance to get involved in the Ukraine conflict. The remarks riled up Hungarian officials, with some recommending the minister seek mental health treatment.
On Tuesday, Kacer published a lengthy post on Facebook, criticizing a recent speech by Orban and claiming that he is the only Western politician worried that "supplying weapons and supporting Ukraine only prolongs the war."
Last week, during his annual state-of-the-nation address, the Hungarian premier claimed that by sending military aid to Ukraine, European countries are "drifting into the war" with Russia.
"Over the weekend, the Carpathian prophet spoke to them [Hungarians] about how this is not our war. It is 'only a military conflict between two Slavic states,'" the minister said, describing Orban's remarks as "pathetic" and "disgusting."
Stressing that Slovakia is "part of the developed world" and the West, Kacer asserted that he doesn't "want us to 'do it like Orban' and certainly not to be on [Russian President Vladimir] Putin's side."
"For Putin's collaborators and… for all those who want peace at the cost of the destruction of Ukraine, I have only one message," he said, adding an uncensored profanity in Russian translated as "go f*** yourself."
Responding to the insult, Zsolt Nemeth, who chairs the Hungarian Parliament's foreign affairs committee, said he is "extremely concerned" about Kacer's mental health. "I advise you to see a psychiatrist very urgently," he added.
Meanwhile, Tamas Menczer, Hungarian State Secretary for Foreign Affairs, described Kacer as a "provocateur," who "must be treated accordingly."
Since the start of the Ukraine conflict almost one year ago, Hungary, which is heavily dependent on Russian energy, has repeatedly spoken against the sanctions the West has imposed on Moscow. It has argued that the restrictions have failed to meaningfully weaken Russia while damaging the EU's economy. Budapest has also refused to support Kiev with weapons or allow arms transfers across its border with Ukraine.
You can share this story on social media: