EU 'indirectly at war' with Russia – Orban
Hungarian leader vows in annual state-of-the-nation speech to maintain economic ties with Moscow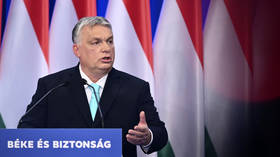 Europe has become "immersed in war" due to its policy of supplying arms and military intelligence to Ukraine throughout its conflict with Russia, Hungarian Prime Minister Viktor Orban said on Saturday, addressing his country's refusal to send weapons to Kiev.
Speaking at his annual state-of-the-nation speech in Budapest, Orban reiterated that Hungary won't fall in line with other EU member states by supplying military aid to Ukraine, its northeastern neighbor, adding that European leaders appear to be "sleepwalking" into an expanded conflict.
"It started with helmets and now we are already at the delivery of tanks, in the future also of airplanes, and before long we will hear about the so-called peacekeeping units," Orban said.
"Europe is getting immersed in war, in reality they're already indirectly at war with Russia," he added.
Orban, who has served as Hungary's Prime Minister since 2010, stated that Hungary will "maintain economic relations with Russia and recommend this to our allies" even as Western leaders continue to impose sanctions on Moscow.
He also said that while Hungary remains a proud member of both the EU and NATO, the military bloc must remain a defensive alliance and not be used to "collectively attack a third country" – adding that a "sovereign Ukraine between Hungary and Russia" is in Budapest's best interests.
The premier maintained that Hungary has shown "great humanitarian aid" for Ukrainian refugees, and said he'd like the Russia-Ukraine conflict to end immediately but that he does not have the influence within NATO and the EU to get that done, as "everyone there is on the side of war except us."
While he also discussed issues such as inflation and domestic political affairs, around half of Orban's hour-long speech was centered around policy matters involving Moscow and Kiev.
There will be no resolution in Ukraine, Orban concluded, until lawmakers in both Moscow and Washington sit at the negotiation table. Until then, only more fighting – and the threat of a world war – awaits.
You can share this story on social media: