NATO state rules out jets for Ukraine
Italy says it is considering air defense systems for Kiev, but warplanes remain a step too far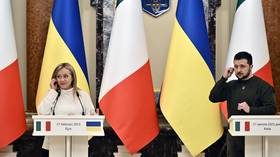 Prime Minister Giorgia Meloni has said Italy will not supply fighter jets to Ukraine, rebutting local press reports claiming that Rome was preparing to send several aging planes to bolster Kiev's forces.
Speaking alongside Ukrainian President Vladimir Zelensky during a visit to Kiev on Tuesday, Meloni was asked to comment on a recent report in La Repubblica newspaper, which said Italy was ready to donate five of its older AMX ground attack fighters.
"At the moment, the supply of planes is not on the table," she said, adding that the decision would have to be made "in consultation with international partners."
Instead, Meloni said Italy is working on a new arms package for Ukraine which will include a number of air defense systems, such as the SAMP/T surface-to-air missile launcher, which will be supplied in coordination with France. While the PM offered few details about the upcoming weapons shipment, Foreign Minister Antonio Tajani said on Tuesday that Italy would send new air defenses "within weeks." The government has already passed a decree to continue military assistance through 2023, after Defense Minister Guido Crosetto vowed to keep up the flow of weapons indefinitely.
While Kiev has repeatedly requested fighter jets from its Western patrons, it has so far found no takers. Some NATO members, such as Poland and Slovakia, have proposed sending older Soviet-era MiG-29s from their own arsenals, but have yet to do so, with Warsaw calling on the US to lead a "wider coalition" of countries to supply aircraft.
Though Poland has been among the most vocal in demanding fighter jets for its neighbor, President Andrzej Duda recently observed that his country has fewer than 50 war planes in its inventory, suggesting Warsaw does not have any to spare.
During his joint press briefing with Meloni on Tuesday, Zelensky acknowledged that foreign leaders "have the right to have their own position," referring to Italy's refusal to supply jets. The two leaders also signed a joint declaration reaffirming their "support for the principles of international law," while Rome vowed to promote "strong and effective political and material support for Ukraine" among its NATO and European allies.
You can share this story on social media: