Ex-minister charged for revealing state secrets
The case centers on joint spying operations by US and Danish intelligence agencies, which reportedly eavesdropped on Western leaders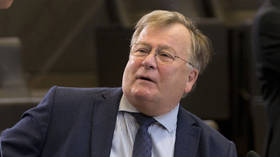 Former Danish Defense Minister Claus Hjort Frederiksen has been charged with divulging state secrets, after claiming military intelligence worked with the US National Security Agency (NSA) to spy on a number of foreign officials, among them ex-German Chancellor Angela Merkel.
Frederiksen confirmed the charges in a Facebook post on Tuesday, saying he had been indicted for the "disclosure or passing on of state secrets." He insisted on his innocence, however, claiming the allegations are motivated by politics
"I deny having exceeded the limits of my far-reaching freedom of speech as a politician, and I have not revealed alleged state secrets. Period," he said, adding "I will demand a jury trial, as this is a political case."
Danish officials declined to cite Frederiksen by name in discussing the charges, with prosecutor Jakob Berger Nielsen saying the case "includes highly classified information that cannot be presented openly."
While the details of the state secrets indictment remain under wraps, after facing preliminary charges last year, Frederiksen suggested the case was linked to public comments he made regarding joint surveillance missions involving Denmark's Defense Intelligence Service and the NSA. In multiple media interviews in 2020 and 2021, Frederiksen said the Danish agency helped the NSA eavesdrop on high-level officials in France, Germany, Norway, and Sweden – including Merkel and several of her political rivals.
Though the NSA's part in the spying was revealed by whistleblower Edward Snowden – who leaked a massive trove of classified documents while working as a private contractor in 2013 – Denmark's role only came to light in subsequent media reports, which cited a confidential Danish intelligence review carried out following the Snowden revelations.
Frederiksen served as defense minister between 2016 and 2019 and later entered politics under Denmark's Liberal Party. He retired from public life last year, however, meaning his parliamentary immunity has lapsed and he can now be prosecuted.
No trial date has been set for the former official, who faces up to 12 years in prison if convicted.
You can share this story on social media: