US town hit by fourth train derailment in 10 months
Crews with Union Pacific were called to clean up the scene after 31 cars carrying coal came off the rails in Nebraska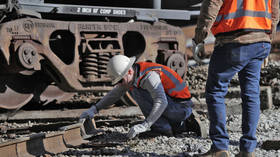 A Union Pacific train carrying coal suffered a catastrophic derailment on the eastern edge of Gothenburg, Nebraska on Tuesday morning, in the fourth such accident to befall the small town in just 10 months. Emergency and railroad crews were sent to the scene for cleanup after 31 cars carrying coal tumbled into a twisted wreck.
"It seems to happen all the time," local resident Jesse Ambler told the Daily Mail. "The rail company keeps laying people off and building longer and longer trains, but with less people to maintain the tracks," he explained, describing the disaster-plagued stretch of tracks as "one of the busiest railways in America."
Union Pacific claimed "no one was injured" in a statement released on Tuesday, revealing that train traffic had already reopened on one of the three mainline tracks less than six hours after the accident. Its cause was still "under investigation."
There were three other Union Pacific derailments in the area last year. Another coal train derailed in May southeast of Gothenburg, followed just a month later by a similar incident near the town. The third hit in November near neighboring Lexington.
Tuesday's crash comes as the US public is increasingly alarmed about an apparent surge in accidents, following a catastrophic incident in East Palestine, Ohio earlier this month. A Norfolk Southern train carrying 10 cars full of hazardous materials mysteriously derailed on a straight stretch of track on February 3, leaking toxic chemicals including vinyl chloride into the surrounding area. Local authorities and the railroad company, determined to resume train traffic, set the vinyl chloride on fire in what was explained to the townspeople as a safe "controlled burn."
However, experts have warned the wreck and the massive toxic cloud created by the burn could give rise to one of the worst environmental disasters in US history. In a video posted by locals to social media, the Ohio River, which supplies drinking water to a tenth of the US population, appeared to be thoroughly contaminated. The perceived failure of Transportation Secretary Pete Buttigieg to act decisively until nearly three weeks after the crash has triggered calls for his resignation.
You can share this story on social media: