Train carrying hazardous chemicals derails
50 cars went off the tracks sparking a massive blaze in the state of Ohio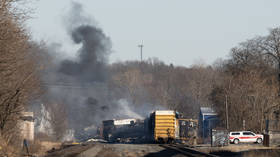 A train carrying chemicals derailed in the US state of Ohio late on Friday, causing a massive fire and triggering an evacuation of residents in the area.
Some 50 cars from a 140-car train went off the tracks in the village of East Palestine not far from the state border with Pennsylvania, the National Transportation Safety Board (NTSB) said on Saturday.
There were no reports of fatalities or injuries as a result of the derailment, but a massive blaze broke out at the site, which continued burning into Saturday.
"It's an active fire scene," NTSB board member Michael Graham said. Several explosions were heard at the crash site on Saturday, according to media reports.
Firefighters in East Palestine were forced to work in hazmat suits as the ill-fated train had been transporting chemicals, among other things.
#BREAKING: Rail cars continue to burn 16 hours after a train derailed in East Palestine, Ohio. A mandatory evacuation order remains in effect for people within a 1-mile radius of the derailment. Fortunately, no injuries have been reported. @KDKA#SkyEye2pic.twitter.com/YoIpGyE3t8

— Ian Smith (@ismithKDKA) February 4, 2023
According to the NTSB, ten of the derailed cars contained hazardous materials, including five carrying vinyl chloride, a colorless gas used to make tubes for plumbing and other plastic products. The US National Cancer Institute warns that exposure to vinyl chloride is associated with the risk of several forms of cancer.
So far, only a small amount of vinyl chloride was released through special pressure release devices, which are set up on train cars to prevent explosions, the NTSB said.
The Ohio Environmental Protection Agency told CNN that as of Saturday evening it hadn't discovered any dangerous levels of air contamination in the area around the crash. Experts will remain on site "as long as necessary," the agency assured.
The massive fire and the threat of chemical explosions prompted local authorities to order an evacuation of residents living within 1 mile (1.6km) of the site of the incident. Around 2,000 people, roughly half of East Palestine's population, had to leave their homes, with the remaining inhabitants told to stay indoors.
An investigation is currently underway to determine the causes of the derailment.
You can share this story on social media: