Japan cordons off beach due to 'mystery ball'
Police are investigating a large spherical object that reportedly washed up on a beach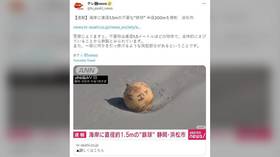 A mysterious ball found on a beach in a Japanese city has prompted the police to cordon off the area. They are concerned that the object may be some kind of sea mine, according to local media.
The object was noticed on Monday morning by a local woman in the city of Hamamatsu in the Shizuoka Prefecture, who reported it to law enforcement.
According to media reports, it measures around 1.5 meters (4.9 feet) in diameter and may be made of iron, because its surface seems rusty.
The ball appears to have washed ashore from the sea and has two latching points on opposite sides.
Police cordoned off the area in a 200-meter radius around the object and called the Japanese Self- Defense Forces, asking the military to send someone to inspect it for explosives.
The hunt for mysterious round objects has intensified after the US accused China of flying a "spy balloon" through its airspace earlier this month. Beijing said the object was a meteorological tool that strayed into US airspace by mistake.
Washington doubled down on its espionage allegations and shot down the aircraft, as well as several other unidentified objects, one of which may have been a balloon launched by a hobby club in Illinois.
The US claims that China routinely sends spy balloons over other nations "across five continents." Japan has reported three separate airspace incursions between 2019 and 2021, which, it says, may have been Beijing's doing.
You can share this story on social media: