Italy considers sending warplanes to Ukraine – La Repubblica
Rome will reportedly only provide Kiev with fighter jets if other Western nations do so first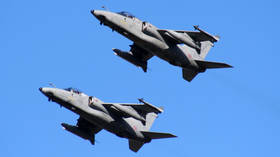 The Italian government is confidentially examining options for sending military jets to Kiev, La Repubblica newspaper reported on Sunday.
According to the paper, a deal involving up to five planes could be struck during an upcoming visit to the Ukrainian capital by Italian Prime Minister Giorgia Meloni.
The consignment could include old AMX A-11 Ghibli ground-attack aircraft as well as Tornado jets, La Repubblica said in another article published on Monday. The paper was skeptical about the initiative, however, noting that such a small number of jets is unlikely to change the situation in the skies over Ukraine.
According to the media outlet, the AMX Ghibli fighter-bombers are scheduled to be retired altogether by the Italian Air Force by the end of the year. "Delivery of Tornados or Eurofighters is more complex," it said.
Rome does not want to be the first nation to supply Kiev with Western-made aircraft, La Repubblica said. It would agree to deliver the planes only if other countries do so first, the paper explained, adding that Italy wants some other "allies" like the UK to lead the charge.
Italy would also reportedly not prevent the UK from sending Typhoon fighter jets to Ukraine, the paper said, adding that such a move would require the consent of all nations involved in the fighter jets' production.
London itself is in no rush to supply Ukraine with warplanes. Earlier in February, British Defense Secretary Ben Wallace told Sky News that the UK would not be sending jets to Kiev anytime soon. Some 200 Royal Air Force personnel would have to accompany the planes, he argued.
Instead, the UK and other Western nations are focused on ensuring Ukraine's "long-term resilience" through other means like surface-to-air missiles or drones, which have "the same effects" as fighter jets, according to Wallace.
Last week, the Financial Times reported that the US may still consider sending F-16 fighter jets to Kiev or greenlight their re-export from other nations. Kiev has repeatedly asked its Western backers for heavier weapons like warplanes and fighter jets. Ukrainian officials recently expressed their optimism about overcoming reluctance in this regard.
Moscow has warned that Western weapons deliveries only prolong the conflict and extend human suffering, as well as risking a direct confrontation between Russia and NATO.
You can share this story on social media: