EU's Borrell outlines 'red line' for China
The diplomat said he has warned Beijing not to provide weapons to Moscow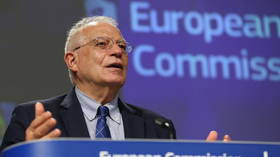 European Union foreign policy chief Josep Borrell has conveyed the bloc's "strong concerns" about Beijing potentially providing weapons to Russia. The warning came after US Secretary of State Antony Blinken made similar accusations last week, suggesting that China was preparing to send "lethal assistance" to Russia's forces.
Speaking on the sidelines of a meeting of EU foreign ministers in Brussels on Monday, the bloc's top diplomat told journalists that he had personally asked Wang not to provide any arms to Russia.
"I asked him not to do that, and expressed not only our concern, but the fact that for us, it would be a red line in our relationship," Borrell said.
According to the Foreign affairs chief, Wang assured him that China has no plans to make any such deliveries, but Borrell said the EU would "remain vigilant."
Over the weekend, US envoy to the UN Linda Thomas-Greenfield told CNN that any lethal support from Beijing to Moscow in the ongoing military conflict in Ukraine would cross Washington's "red line."
Blinken said such a move would have "serious consequences" on US-China relations, adding that Washington was apparently already aware of Beijing providing non-lethal assistance to Moscow.
China's Foreign Ministry responded to the allegations by urging the US to "seriously reflect" on its own role in the Russia-Ukraine conflict.
"It is the US, not China, that has been pouring weapons into the battlefield," said ministry spokesperson Wang Wenbin on Monday. "The US is in no position to tell China what to do. We would never stand for finger-pointing, or even coercion and pressurizing from the US on our relations with Russia," he added.
Beijjing has repeatedly insisted that it is "on the side of peace and dialogue" and called for talks between Moscow and Kiev, while accusing the US and NATO of fanning the flames of the conflict.
You can share this story on social media: