Dirtiest cities in US ranked
A new report suggests the country's most-littered cities are all run by Democratic mayors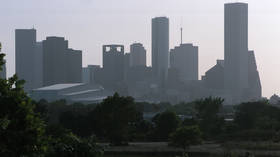 A new study has ranked 152 cities across the US on their overall level of cleanliness and found that the five dirtiest cities are all run by Democratic mayors. The top spot went to Houston, Texas, followed by Newark, San Bernardino, Detroit and Jersey City.
The research was carried out by lawn care company LawnStarter, which evaluated each city using publicly available data on a number of factors like air quality, gas emissions, littering, pests, home quality, and resident opinions.
These factors were then compiled into four categories – pollution, living conditions, infrastructure, and consumer satisfaction. The scores were then weighted and averaged for each city, producing a final ranking of cities.

Houston, which came in first place on the list, was also placed third in the nation for pollution, fourth for poor living conditions, 12th for infrastructure, and 34th for consumer satisfaction. The city was also found to have the third-most gas emissions from large industrial facilities per capita and the biggest cockroach problem, according to data from the Census Bureau.
Meanwhile, the cleanest city in the overall ranking turned out to be Republican-run Virginia Beach, which also came in 149th for pollution, 112th for living conditions, 98th for infrastructure, and 132nd for consumer satisfaction.
The cleanest city in terms of pollution turned out to be Honolulu in Hawaii, while the most polluted was San Bernardino, California, which also had the worst consumer satisfaction rating. New York City, meanwhile, scored the lowest for living conditions, at the opposite end of the table to Lexington, Kentucky.
Last month, a study by WalletHub found that the cities with the highest homicide rates in the US were also predominantly run by Democratic governments, as murder rates across the country have seen a rapid increase in the past few years. Of the 45 cities ranked, the worst five turned out to be Atlanta, Baltimore, Detroit, Las Vegas and Kansas City. Only one Republican-run city, Jacksonville, Florida, made it into the top ten.
You can share this story on social media: