US police killings reached record high in 2022 – NGO
Law enforcement officers killed an average of three people per day, but faced more violence in the line of duty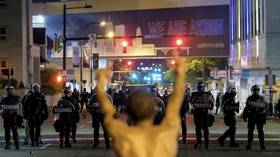 Cops in the US killed 1,176 people in 2022, making last year the deadliest on record, according to a nonprofit group that tracks police violence. However, officers faced more attempts on their own lives, as crime in some cities soared to new heights.
Mapping Police Violence – a project connected to the Black Lives Matter movement – found that police fatally shot, beat, tased and restrained 31 more people last year than in 2021, when they killed 1,145 people. 2022's total of 1,176 is the highest annual tally since the nonprofit group began tracking such statistics in 2013.
There were only 12 days without a single police killing last year. Officers killed an average of more than three people every day, the statistics show. 132 of these killings involved victims who hadn't been suspected of a crime, and 98 fatal encounters began as traffic stops.
Some 24% of those killed were black, despite black people making up only 13% of the US population.
The violent crime rate in the US has more than halved since 1993. However, violent offenses rose dramatically in some cities in the aftermath of the 2020 Black Lives Matter protests, and officers have argued that liberal criminal justice reforms enacted after the police murder of George Floyd that year are costing them their lives.
A total of 323 officers were shot in the line of duty across the US in 2022, the National Fraternal Order of Police (FOP) revealed in a report last month. Of these officers shot, 60 died, an increase of 23% in fatalities since 2019. FOP National President Patrick Yoes blamed the figures on "rogue prosecutors," whom he said are failing "to prosecute violent offenders for their crimes or, even worse, releasing repeat offenders."
New Orleans in Louisiana became the US murder capital in 2022, taking the grim title from St. Louis, Missouri and recording comparatively more homicides than the crime-ridden cities of Chicago and New York. At least 280 people were murdered in New Orleans last year, and police there killed 13 people.
You can share this story on social media: