From the Middle East to Ukraine: How the West used terror as political tool
RT's Murad Gazdiev explores the history of the US and NATO's close ties with radical groups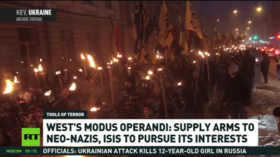 RT's Murad Gazdiev delves into how, from the bands of Ukrainian nationalists fighting Russian forces to Islamic extremists in Iraq and Syria, the West has used terror to advance its political goals around the globe.
During World War II, Adolf Hitler's forces trained and equipped Ukrainian nationalists who would later massacre hundreds of thousands of Poles, Russians and Jews.
The current generation of Ukrainian nationalists is being armed to the teeth with NATO-supplied weapons, just as social media has been flooded with videos purportedly showing their units torturing and executing captured Russian soldiers, as well as civilians.
In the Middle East, the Islamic State (IS, formerly ISIS) was born through radicalization in US-run camps and prisons in Iraq, former detainees say. The group later unleashed its terror on the region and got its hands on US and British weapons. Former Afghan president Hamid Karzai has openly accused Washington of using IS to destabilize his country.
The statements, views and opinions expressed in this column are solely those of the author and do not necessarily represent those of RT.
You can share this story on social media: