Shakespeare flagged as 'far right' literature in UK – media
The works of the British playwright were among those reportedly included in a list of 'key texts' read by white nationalists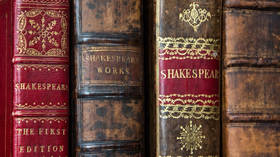 Several of the UK's most respected television shows, movies and works of literature have been included in a list of works that could potentially encourage far-right sympathies, compiled by the taxpayer-funded and government-led 'Prevent' counter-terrorism programme, according to the Daily Mail.
Works by JRR Tolkien, Aldous Huxley, George Orwell and even William Shakespeare, as well as classic movies 'The Bridge on the River Kwai' and 'The Great Escape' were cited in a list published by the British paper on Saturday as being highlighted by the counter-terrorism watchdog, for their potential use by far-right agitators to promote troublesome viewpoints online.
"This is truly extraordinary," historian and broadcaster Andrew Roberts said of the list to the tabloid. "This is the reading list of anyone who wants a civilized, liberal, cultural education.
"It includes some of the greatest works in the Western canon and in some cases – such as Joseph Conrad's 'The Secret Agent' – powerful critiques of terrorism. [Edmund] Burke, Orwell and Tolkien were all anti-totalitarian writers."
In addition to movies and works of literature, television shows such as the original 'House of Cards' series and even the BBC's 'Great British Railway Journeys,' presented by former Conservative politician Michael Portillo, are mentioned by 'Prevent' as being potentially attractive to people with far-right viewpoints.
It said in a recent report by its Research Information and Communication Unit (RICU) that far-right corners of the internet had promoted 'reading lists' and 'important texts,' as well as other media which could potentially stoke radicalism online.
The 'Prevent' counter-terrorism programme was set up by the British government in 2011 as a means to safeguard against "vulnerable people being drawn into criminal behaviour," with an emphasis on combating ultra-right groups and Islamic extremism.
However, a recent audit of its practices found that 'Prevent' "often falls well short of the extremism threshold altogether" and that it "has a double-standard when dealing with the extreme right-wing and Islamism."
Amnesty International has also been highly critical of the project, saying it is "deeply prejudiced" and has "no legitimacy".
Despite its perceived failings, as highlighted by the review into its standards and practices, major changes are not expected in the management of 'Prevent,' which has operational costs of £49 million per year.
You can share this story on social media: