Stoltenberg sets condition for Kiev to join NATO
Only a "sovereign and independent" Ukraine can be a member of the US-led bloc, the secretary general said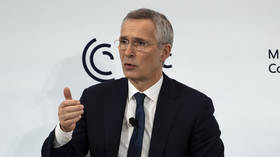 Ukraine must "prevail as a sovereign, independent state" before it can formally join NATO, Secretary General Jens Stoltenberg said on Saturday, despite Kiev already considering itself a de-facto member of the Western bloc.
"NATO's position on membership for Ukraine is unchanged," Stoltenberg told a panel at the Munich Security Conference. "We agreed back in 2008 that Ukraine will become a member of the alliance and that is still our position."
"Of course, what matters now is to ensure that Ukraine prevails as a sovereign, independent state. Because without having Ukraine as a sovereign and independent state, there is no way to discuss any kind of relationship between NATO and Ukraine in the future," he continued, adding that this discussion would take place when the current conflict in Ukraine is resolved.
NATO has long insisted that all prospective members peacefully resolve outstanding international, territorial, or ethnic disputes before joining the alliance.
Ukrainian troops are currently being trained in multiple NATO countries, and the bloc's members provide Kiev with weapons and intelligence. Earlier this month, Stoltenberg told reporters that NATO countries had already transferred around $120 billion worth of military and financial aid to Ukraine, and the secretary general pledged on Saturday that this support will continue indefinitely, even at the risk of "triggering escalation."
While formal membership so far remains out of reach for Kiev, Ukrainian Defense Minister Aleksey Reznikov told the BBC last month that his country has already become a "de facto" NATO member, and will "in the near future, become a member of NATO, de jure."
The accession of Ukraine to NATO would potentially leave more Russian territory within striking distance of the bloc's medium-range missiles, and is therefore considered an unacceptable national security threat by the Kremlin. Any future Russia-Ukraine conflict would also drag the rest of the alliance into open war with Moscow.
The "demilitarization" of Ukraine and its establishment as a neutral country are two goals cited by Russia for its military operation, launched almost a year ago.
You can share this story on social media: