Swedish PM issues update on NATO prospects
Stockholm has indicated it is willing to abandon its goal of synchronizing accession with Finland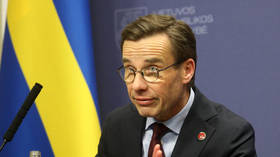 Sweden may be forced to abandon its plan to join NATO alongside Finland and instead become part of the military bloc at a later date, Prime Minister Ulf Kristersson has admitted. The Swedish premier claimed that such a path would not constitute a failure.
Speaking at a press conference on Tuesday, Kristersson described the potential entry of his country to NATO separately from Finland as an "unfortunate" scenario, resulting mainly from "Türkiye making Turkish decisions." However, this route into the alliance "would not be a failure," he added.
Kristersson's remarks came shortly after NATO Secretary General Jens Stoltenberg insisted that the "main question is not whether Finland and Sweden are ratified together," but "that they are both ratified as full members as soon as possible."
Sweden and Finland tendered their official NATO applications in mid-May of 2022, citing Russia's offensive against Ukraine. Until recently, the bloc had spoken in favor of both Nordic nations being admitted simultaneously.
Twenty-eight of the 30 NATO member states gave the green light to immediate enlargement. However, Hungary and Türkiye refused to grant their approval, stalling the process indefinitely as the unanimous consent of all nations in the alliance is required.
While Budapest is expected to give the go-ahead in the coming weeks, Ankara's grievances have yet to be addressed in full, especially in the case of Sweden.
Türkiye has accused the Scandinavian country of harboring terrorists, and relations were further strained last month when a far-right politician publicly burned a copy of the Koran in front of the Turkish Embassy in Stockholm.
In late January, Turkish President Recep Tayyip Erdogan indicated that his country "may respond differently to Finland if necessary," which could leave Sweden "shocked."
Publicly, Helsinki has insisted on joining NATO together with its neighbor. However, Finland's Iltalehti newspaper has cited sources as stating that the authorities would be prepared to proceed alone.
In a report last Monday, Iltalehti quoted one source as explaining that "we are Russia's border neighbor," with officials in Helsinki believing that Sweden's geopolitical situation is different, and does not require such urgency.
You can share this story on social media: