Islamist attack on police station leaves seven dead
The Pakistani Taliban has claimed responsibility for Friday's storming of a law enforcement compound in Karachi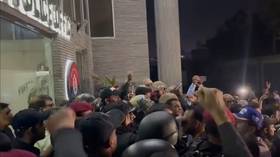 The Pakistani Taliban has attacked the police headquarters in Pakistan's southern city of Karachi, murdering three officers and a civilian before the militants were killed in an hours-long gun battle with security forces.
The three assailants, armed with grenades and other weapons, stormed the police compound on Friday, targeting a heavily guarded facility that houses the city's most senior officers. Some reports suggest that the attackers wore police uniforms, just as was the case in a Pakistani Taliban mosque bombing last month that killed over 100 people, including more than 80 officers.
In Friday's attack, witnesses reported hearing a large explosion from inside the station, following multiple smaller blasts and hail of gunfire. The Islamists were killed as security forces retook control of a five-story office building, going from floor to floor and room to room to find them.
The incident left 18 people wounded. Deputy Inspector General Irfan Baloch told Reuters that there could have been as many as 30 police at the station at the time of the attack.
The Pakistani Taliban, also known as Tehreek-e-Taliban Pakistan (TTP), has stepped up its attacks against Pakistan's government in recent months. TTP has become more active since the Afghan Taliban regained control of neighboring Afghanistan in August 2021.
You can share this story on social media: