Dozens killed in Pakistan mosque blast
A suicide bomber blew himself up during prayers, officials told local media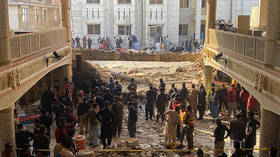 A terrorist attack on a mosque in Peshawar, Pakistan has claimed at least 72 lives, with over 150 more injured, local officials told the media. The blast took place on Monday in a heavily protected area with a massive police presence.
Witnesses and officials say the explosion was so powerful that the roof of the mosque collapsed.
The authorities have declared a "medical emergency" in the city and called on locals to donate blood for the injured.
Security officials told Geo News that the suicide bomber was in the front row of worshippers during prayers when he set off the explosive.
Speaking to reporters, Capital City Police Officer Muhammad Ijaz Khan acknowledged that a "security lapse occurred."
Pakistani Defense Minister Khawaja Muhammad Asif said police officers were the prime target of the terrorist attack.
Prime Minister Shehbaz Sharif strongly condemned the explosion, saying, "these terrorists are trying to instill fear by targeting those who perform the duty of defending Pakistan."
You can share this story on social media: