US senator hospitalized for 'depression'
Pennsylvania Democrat John Fetterman was also hospitalized last week after reportedly feeling 'lightheaded'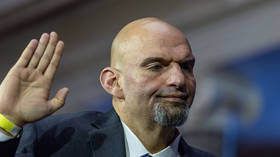 John Fetterman, a Democrat senator from Pennsylvania, has checked into a hospital to be treated for "clinical depression," according to his chief of staff, Adam Jentleson, in a statement released on Thursday. The freshman senator had "experienced depression off and on throughout his life" but it "only became severe in recent weeks," according to Jentleson.
Fetterman checked himself into the Walter Reed National Military Medical Center on Wednesday to receive treatment "on a voluntary basis" after it was recommended by Congress' attending physician, Dr. Brian Monahan, who examined the senator on Monday. A senior aide to the senator told NBC's Dasha Burns he would be inpatient for "a few weeks."
The former Pennsylvania lieutenant governor and his staff were "taken by surprise by the severe onset of depression," the aide said, adding that it was difficult to distinguish its symptoms from those of the debilitating stroke he suffered in May, which left him unable to comprehend spoken words and requiring a closed-captioning device to communicate.
Despite the lingering effects of the near-fatal stroke he endured two days before winning the Democratic nomination, Fetterman beat Republican challenger and TV doctor Mehmet Oz in November's election to become the first Democrat to hold the seat in half a century.
A letter from his cardiologist released to the public during last year's race blamed atrial fibrillation, a condition he was diagnosed with in 2017, for the stroke and revealed he was also implanted with a pacemaker due to cardiomyopathy.
Fetterman was admitted to the hospital last Wednesday after feeling "lightheaded" during a Senate event and was kept overnight. Spokesperson John Calvello told reporters that, pending further diagnostics, "initial tests did not show evidence of a new stroke."
Journalist Glenn Greenwald described Fetterman's struggle as "one of the saddest stories I've seen in politics in years" in a tweet posted Friday, suggesting the senator's hospitalization was a result of the media establishment prohibiting any questions about his fitness to serve. NBC's Burns, the first reporter to interview Fetterman after his stroke, was excoriated and denounced as "ableist" by his wife Gisele for observing that the then-candidate could not understand small talk without the aid of his closed-captioning device.
Several commentators, including the Daily Wire's Ben Shapiro and Twitter personality Catturd skewered Gisele Fetterman on Friday for pushing her husband to run despite awareness of his health issues. Campaigning may have permanently hurt his chance at recovery, according to the New York Times.
You can share this story on social media: