Macron opposes regime change in Russia
The French leader stressed, however, that the time for dialogue with Moscow on Ukraine has not yet come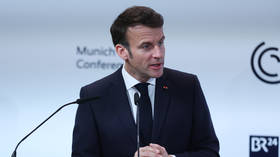 French President Emmanuel Macron believes that the root cause of the current conflict in Ukraine is that neither Europe nor Russia "properly digested" the end of the Cold War after the fall of the USSR in 1991. He also stressed the importance of re-evaluating western Europe's relationship with Moscow.
However, he noted that the time for dialogue with Russia has not yet come and that the west needs to continue providing support, including military aid, to Ukraine and prevent Moscow from achieving a military victory on the battlefield.
Speaking at the Munich Security Conference on Friday, Macron gave his take on the "Russian mindset," stating that after the collapse of the Soviet Union, Moscow "did not digest the end of an empire" and continued to harbor resentment and an "obsession of a geopolitical empire."
At the same time, Macron admitted that the West had also failed to digest its approach towards Moscow, but noted that his assessment and advocacy on this issue may be too late.
The French leader went on to state that he doesn't believe "for one second in regime change," arguing that such methods are unlikely lead to anything positive or resolve the ongoing conflict in Ukraine.
"When I hear a lot of people advocating for regime change, I would just ask them: for which change? Who's next? Who is your leader? How to implement it? We experienced several times in the past decade a lot of regime change in a lot of countries. It's a total failure," Macron said.
He stressed, however, that it was nevertheless important for Europe to help Ukraine "save its territory, people and sovereignty," and help Kiev "create something on the ground" that would force Russia to come to the negotiating table on the conditions of Ukraine. He also suggested that the West must find a way to allow Kiev to present something sustainable for Russia itself, but noted that it's "too early to formulate" something like that.
Macron is one of the few Western leaders that maintains contact with Russian President Vladimir Putin, even though many of his phone calls have reportedly been at the request of Ukraine's Vladimir Zelensky, who has outlawed speaking with Russian leadership.
And although Macron has repeatedly called for a ceasefire that doesn't "humiliate Russia," he has nevertheless continued to provide Kiev's military with progressively heavier weapons, announcing last month the delivery of infantry fighting vehicles to Ukraine's forces and hinting at a potential transfers of fighter jets.
You can share this story on social media: