Zelensky behind Macron's calls to Putin – Paris
Despite ruling out talks with Moscow, the Ukrainian leader reportedly uses his French counterpart as a go-between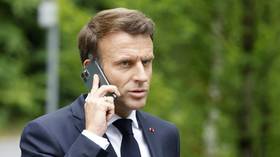 French President Emmanuel Macron's phone calls with his Russian counterpart, Vladimir Putin, mainly took place "at the request of President Zelensky" of Ukraine, a spokeswoman for the French Foreign Ministry stated on Saturday. Zelensky has publicly declared that he will never speak to Putin in person, and has made peace talks with the Russian leader illegal.
"Mr. Macron calls President Putin mainly at the request of President [Vladimir] Zelensky, and always in coordination with our allies to maintain a channel for dialogue," Foreign Ministry spokeswoman Anne-Claire Legendre said during an interview with RTVI.
Kiev has never admitted that Zelensky presses his Western backers into speaking to Putin, and the Ukrainian leader himself signed a decree in October forbidding negotiations with Moscow unless "another president of Russia" replaces the current Kremlin occupant. With negotiations officially off the table, Zelensky has repeatedly vowed to use force to seize Russian territory that is claimed by Ukraine, including Crimea.
Among Western leaders, Macron is one of a small minority who maintain contact with Putin. Both he and German Chancellor Olaf Scholz have held regular phone calls with the Russian leader since Moscow's military operation in Ukraine began almost a year ago.
Legendre said that at some point "Ukrainians will decide that the time has come for negotiations. That is why we consider it useful to maintain this channel of dialogue."
Macron and Scholz have been condemned by their Eastern European allies for holding discussions with Putin. "Why talk to him? He's a war criminal," Estonian Prime Minister Kaja Kallas declared last summer. "I feel that if everybody is constantly calling him, he doesn't get the message that he's isolated."
Although Macron has defended his conversations with Putin, and has spoken publicly of the need to reach a ceasefire deal that doesn't "humiliate Russia," he has still supplied Kiev's military with progressively heavier weapons. France announced last month that it would send infantry fighting vehicles to Ukraine, and Macron last week refused to rule out the eventual transfer of fighter jets.
Western nations that supply weapons to Ukraine have made themselves de facto participants in the conflict, Moscow has repeatedly stated.
You can share this story on social media: