Taliban outlaws contraception – media
Islamist fighters have reportedly claimed that birth control is a Western conspiracy to limit the Muslim population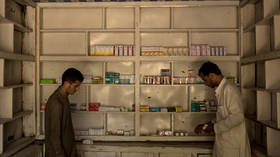 Taliban fighters have reportedly barred sales of all birth control medications and devices in at least two of Afghanistan's largest cities, alleging that Western nations are trying to use contraception to control the Muslim population.
The Taliban has ordered pharmacies in Kabul and Mazar-i-Sharif to clear their shelves of all contraceptive products, The Guardian reported on Friday. Fighters also have gone door-to-door, threatening midwives not to promote "the Western concept of controlling population."
"They came to my store twice with guns and threatened me not to keep contraceptive pills for sale," one Kabul pharmacy owner told The Guardian. "They are regularly checking every pharmacy in Kabul, and we have stopped selling the products." Another pharmacy owner said the ban started at the beginning of February and required the removal of such products as birth control pills and Depo-Provera injections. "We are too afraid to sell the existing stock."
Taliban fighters patrolling the streets of Kabul have claimed that "contraceptive use and family planning is a Western agenda," the newspaper said.
Taliban spokesman Ustad Faridoon explained that he doesn't support a total ban on contraception, noting that it's sometimes medically necessary. "It is permissible in the Sharia to use contraceptive methods if there is a risk to the mother's life. Therefore, a complete ban on contraceptives is not right."
Since seizing control of Afghanistan amid the withdrawal of US forces in August 2021, the Taliban has prohibited girls from attending school beyond the sixth grade and banned women from many jobs and public spaces. Women are required to cover their faces in public and are advised to stay home except in cases of necessity. They also must have a male chaperone on long trips.
"The Taliban's control not only over women's human right to work and study, but now also over their bodies, is outrageous," Afghan-born UK activist Shabnam Nasimi told The Guardian. "It is a fundamental human right to have access to family planning and contraception services free of coercion."
Karen Decker, chargé d'affaires at the US Mission to Afghanistan in Qatar, suggested earlier this week that Afghan women might need a political movement similar to America's "#BlackGirlMagic" campaign.
You can share this story on social media: